Invasion of the illegals? Thank Joe Biden and the dems. No gas...thank Joe Biden and the dems. EVERY day there is a catastrophic brought to you by the democratic party. In the video the couple that found the girls talk about how much worse it has gotten under Biden....and said we need to bring back Trump's policies because they were working.
*****************************
Just because the largely corrupt national media stopped reporting on the crisis on the southern border doesn't mean the problem went away. In fact, it may be worse than it has ever been in history, according to Val Verde County Sheriff Joe Martinez, who has lived on the border his entire life.
Hundreds of illegal immigrants flood across the border day in and day out, and there have been estimates that the number of illegal immigrants crossing will well exceed 1 million in 2021 alone.
And the danger created by the unchecked flow of humanity encouraged by President Joe Biden's migrant-friendly policies is seen on a regular basis. On Sunday, a farmer found five abandoned migrant girls, all under the age of 7, on his land in Quemado, near the Rio Grande River, Fox News reported.
U.S. Rep. Tony Gonzales, R-Texas, shared an image of the young girls on Twitter, and spoke with the farmer who discovered them alone.
"Take a good hard look at the #BidenBorderCrisis… @POTUS enough is enough let's work together [to] solve this crisis," the lawmaker tweeted.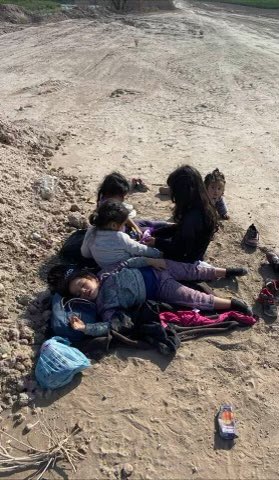 The girls, practically babies, were found hungry and crying, with the youngest naked and crawling because she was too young to walk, Gonzales shared.
They were provided with shelter and food before authorities arrived, with the farmer saying he did not believe they would have survived if he had not spotted them, as the temperature was above 100 degrees.
Yet, not a peep from the liberal media, or liberals like Rep. Alexandria Ocasio-Cortez, D-N.Y., who was quick to grandstand and exploit migrants with a Republican was in the White House.
Gonzales also shared a video of a conversation with the farmer and his family talking about the heartbreaking scene encountered. The farmer said he was born on the border in 1946 and has lived there his entire life, and that he has never seen things as bad as they are today.
"Unfortunately this happens far too often now," said Chief Border Patrol Agent Austin Skero II. "If not for our community and law enforcement partners, these little girls could have faced the more than 100-degree temperatures with no help."
The woman in the video, presumably the farmer's wife, said this type of situation is happening all along the Rio Grande. "There'll be a lot of suffering this summer," she said if action is not taken.
And the flow is never-ending, with illegal immigrants migrants coming daily by the hundreds, if not thousands.
"You see the steady stream of people coming across the border with Mexico entering our nation without going through a legal checkpoint, without any of those things. You don't see them being COVID tested right there, right?" Fox News host Harris Faulkner reported on "The Faulkner Focus."
"Just moments ago there appeared to be an elderly gentleman they were helping out of the river. Some have camping gear so they can spend the night and do what they need to do. This is a heavy stream of people. A lot of children in the group that we are seeing now, too. Women and children in this group. Looks like that woman is praying as she comes across," Faulkner continued. "We have seen instances where our Border Patrol have had to get engaged to save people. That water is moving."
Most of those seen in the video above were from Venezuela, with the network noting that local Border Patrol has been overwhelmed with over 5,000 apprehensions in the last week.
Border crisis: 5 unaccompanied migrant girls found abandoned in Texas | Fox News