Biden once said: 'Watch how I run up ramps and he stumbles down ramps'
We watched Trump walk carefully down a ramp after he had been told to be careful because the surface was slick. He didn't fall. You however, since then, have fallen going UP stairs, off bicycles, and now on stage. I love how the cheering crowd roared when Biden fell and how the ones in the back tried not to laugh but finally gave in with big grins!!
President Biden, in 2020, took aim at then-President Donald Trump for awkwardly walking down a ramp at a commencement speech — remarks that came back to haunt him on Thursday when he took a tumble over a sandbag at a commencement ceremony at the U.S. Air Force Academy.
Trump took heat from critics, including Biden, when he walked gingerly down the ramp at a West Point commencement ceremony in September 2020. Then-candidate Biden, in the midst of a presidential campaign, took a swipe at the Republican incumbent.
"Look at how he steps and look at how I step. Watch how I run up ramps and he stumbles down ramps," Biden joked. "Come on."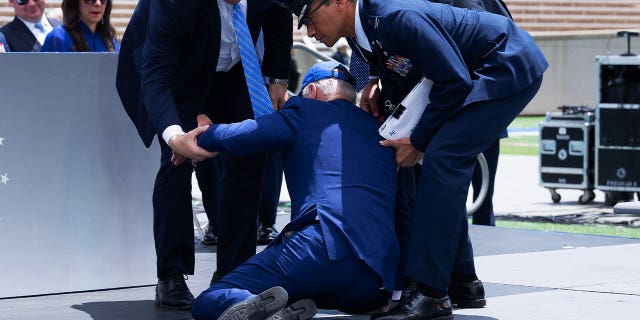 The New York Times ran the headline, "Trump's Halting Walk Down Ramp Raises New Health Questions."
But Biden hit the deck on Thursday after having delivered the Air Force Academy's commencement address earlier in the day.
The White House said the president tripped over a sandbag and that he was not injured by the fall.
It isn't the first time the octogenarian president has stumbled. In 2021, he fell on the steps while boarding Air Force One at Joint Base Andrews.
https://youtu.be/lEFt-rD8gro?t=3