'Pee on the floor': Antifa launches attacks at Conservative Summit, blocks traffic, harasses guests
Members of Antifa staked out the Hyatt in Denver, harassing, threatening, and physically attacking participants of the Western Conservative Summit being hosted inside the hotel Friday night.
The terrorist group, encouraging like-minded passers-by to join them, passed out fliers in front of the hotel that read "We combat fascism by confronting it head-on in mass demonstrations of the strength of our opposition."
That "strength" was first demonstrated and caught on film by reporter Emily Brooks in an altercation that turned physical outside the hotel when Antifa members attacked a man filming them outside.
The man in the white shirt and backpack seen in the video nearly takes a tumble as the rioters try to knock his phone out of his hand.
One Antifa member can be heard telling her she needs to "try some patience and don't honk at us." Another retorted that she "didn't give two sh*ts" about holding up traffic because the hotel was "hosting ****s."
An unseen man threatened the woman as she talked away, "If you touch one, you gonna get touched by every a** one of these motherf**kers."
The confrontation was captured on video by Blaze TV reporter, Elijah Schaffer:
Later in the night, Antifa blocked traffic in the street while chanting, forcing cars to reverse down the block. A male member of the organization was filmed taking pictures of the license plate numbers of cars just trying to make it down the street they were blocking.
The group pre-planned the attacks on attendees of the summit in a public Facebook invite that Facebook did not remove, according to Schaffer.
Antifa members later resorted to harassing all hotel guests as they paraded around the property's perimeter led by a girl on a megaphone, chanting "There are ****s in there" and smacking the windows.
They later asked the guests they harassed to "pee on the floor" of the hotel in protest of their hosting the conservative summit. Because bladder leaks are the historically viable solution…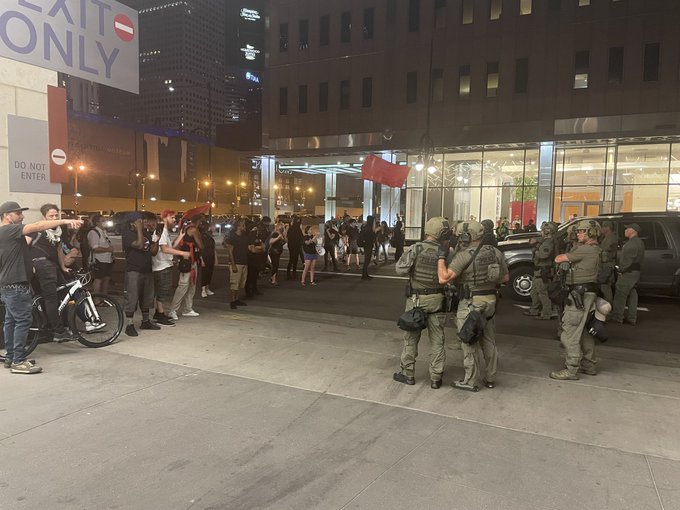 They got creative with their chants as the night went on, yelling "Fascists run, fascists hide, Lauren Boebert stay inside". When the police finally arrived to dispel some of the chaos, the group chanted "Boebert's ***** boys" at them.
The group that organized the violent standoff is known as Denver Communists.
The conservative conference, themed Frontier Freedom this year, "highlights the spirit and possibility of America, especially through the unique lens of the American West—an honest and optimistic perspective much needed in 2021" according to the website.
A number of high profile conservatives are participating in person in Denver including Victor Davis Hanson, Andy Ngo, Chad Wolf, U.S. Rep. Lauren Boebert, and former Sen. Rick Santorum among many others.