There seems to be a troubling occurrence that keeps getting in the way of the left's manufactured narrative of violence against people of Asian descent being a product of the white supremacy crisis in America – that occurrence being video evidence of some of these attacks.
One of the latest examples is a video capturing a 65-year-old petite Asian woman being brutally attacked in New York City while apparently walking to church. She was kicked and stomped four times in broad daylight by a large man.
Not only was the attack captured on video, so too was a man believed to be a building security guard ignoring the elderly woman lying on the sidewalk afterward. The man walked over to the open door to peer outside, before closing the door — the assailant and the man inside the building appear to be black. (They appeared to be black because they are black).
In addition to the apparent security guard, there were two other men in the building looking on, including a man unloading some packages. No one took any action to help the woman or chase down the suspect.
The management company suspended the building staff who witnessed the attack, according to the New York Post.
"The staff who witnessed the attack have been suspended pending an investigation in conjunction with their union," the statement said. "The Brodsky Organization is also working to identify a third-party delivery vendor present during the incident so that appropriate action can be taken."
The victim suffered a fractured pelvis, according to the Post, and was taken to a local hospital, where she was listed in stable condition.
The New York Police Department released a photo of the suspect in an appeal to the public for help in identifying the man.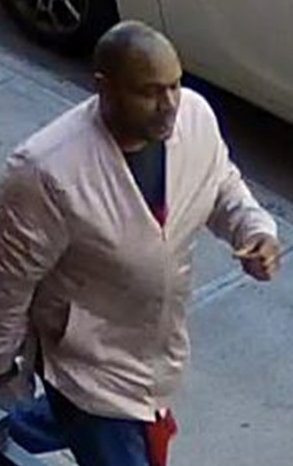 Another even more disturbing video of an Asian man being brutally attacked in New York City was shared online. He was choked into unconsciousness on a subway train, as seen in a video shared by the Police Benevolent Association of the City of New York.
The attack took place on the J Train at Kosciuszko Street Station, according to Andy Ngo, an independent journalist.
The assailant in the attack was also a black man, who beat the victim unmercifully as riders looked on. Blow after blow rained down on the man's head, even after he curled up into a fetal position. The suspect would eventually put the man in a choke hold and render him unconscious. No one intervened.