The theme of this Christmas is patriotism at 1600 Pennsylvania Avenue.
The halls of the White House are incorporating red and blue into the traditional holiday green, adding a timeline of American design, innovation and architecture and studding a Christmas tree with the American flag.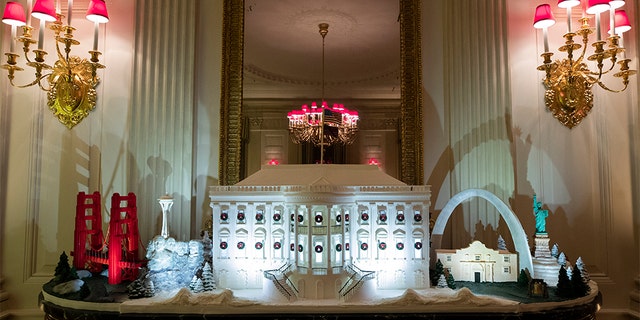 The traditional gingerbread White House is sharing its stage with American landmarks including the Statue of Liberty and Golden Gate Bridge.
The gingerbread White House, built from 200 pounds of gingerbread and slathered in 25 pounds of royal icing and 35 pounds of chocolate, showcases the South Portico, including a staircase made using angel hair, fettuccine and spaghetti.
The popular display also features models of some of the nation's most famous landmarks, including Mount Rushmore, St. Louis' Gateway Arch, the Alamo, the Liberty Bell and the Statue of Liberty, along with the Golden Gate Bridge and the Space Needle.
The East Colonnade of the White House is lined with double rows of see-through panels etched with more than 60 examples of American design, innovation and architecture, ranging from the Woolworth Building in New York City to the Space Needle in Seattle.
A tree dedicated to Gold Star families that lost an immediate relative during military service stands at the beginning of the hallway while a tree decorated with the Trump family ornament — an American flag this year — glistens at the end of the colonnade.